Preparing for the New Year
We all know too well the 'New Years resolution' phase that lasts approximately 3 weeks – maybe longer if you're stronger than I am! The old tradition usually revolves around getting your former 20-year-old body back, or our relationships, but what about our businesses?
We all promise ourselves that we will enter the new year like a first year at University before falling for that lazy life by the end of semester one! As obvious as it is, I must share with you that you can't simply win the grand final in the first round – but you can certainly lose it! You're right – a winning first round doesn't necessarily guarantee a victory either, though it will flick you ahead of the game.
I know, the last thing your holiday mourning employees will want to do is dive straight back into a plethora of work on January 1st. That's why you need to make this plan, delegate and set individual goals now! Your New Year's resolution may come in the form of a series of commitments, or audits that you make to your business. As you slowly hit these small goals as 2019 passes by, the energy you invested in this process will prove 100% worth it as your business strives.
We've put together some ideas to guide your personal plan! Create your 2019 plan now, so that you can easily tackle it as you see in the new year.
Sometimes time slips away and we fail to recognise what no longer serves us, whether that be products, distributors, suppliers or even employees. You need to keep up with the times and acknowledge when products/services aren't as popular as they used to be, when other businesses you associate with are no longer efficient or the most cost effective option, and when your business outgrows the skillset of your current employees. Jot down these considerations in order to cull the unnecessary, seek alternatives, employee training, or even recruitment. If you do come across a potential solution, you're one step closer to growing your business.
Long and Short term goals
Determine exactly where you envision your business to be in the long-term future. Then come up with some short-term goals to accomplish each quarter that align with that long-term goal.
They should all be SMART objectives –
Specific: Are you focusing enough on specific challenges between you and your long term goal?
Measurable: How do you plan to assess the positive performance?
Attainable: Is this goal realistic?
Relevant: Will it assist in improving business performance if achieved?
Time-based: Is there enough time to achieve the goal?
Most big companies will produce a fresh annual marketing plan which considers their goals for the coming year, and how they will reach them. Yes, I know, you may be about an 8th of the size of who I'm talking about, though as an entrepreneur, this is the perfect opportunity for you to strategically focus on yours and your customer's priorities. Not only will it guide your marketing for 2019, it will help you map out your budget and resources which is imperative for small business owners.
Your annual marketing plan should detail the steps you will take in order to reach those quarterly goals you previously made. What will you do to reach these goals? Where will these campaigns be implemented? – Facebook? Email? Events? There are plenty of free online resources that can help you bring your plan to life, including Blog Society.
Refresh your digital presence
As the festive season sweeps us up in its chaos, we tend to neglect what's going online. Before the new year arrives, sift through your entire digital presence and update all out-of-date information. Spice up your pages with a refreshed profile picture or layout. In an era driven solely by the digital world, it's increasingly difficult to keep up with online expectations. You need to create a social media schedule for your business and stick to it! Nesha Woolery created the perfect example of what your plan should look like: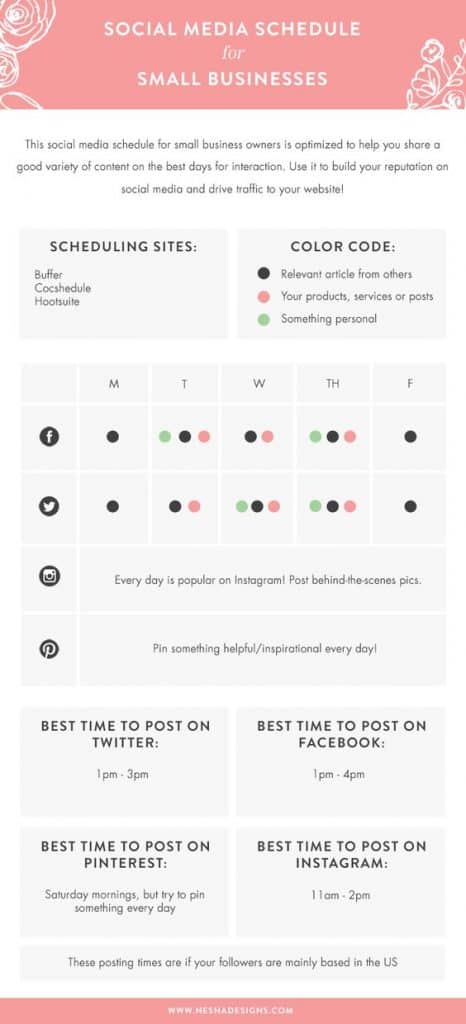 It's known that clutter on the desk leads to clutter of the brain… and a lack of productivity is bound to occur because of it. As you're about to leave your office for the holidays it's the perfect time to clear off the redundant! What better way to start the year than to return to a spick and span office?! While you're at it, you should also clean up your digital office – delete pointless files, backup everything important, sort out your folders and finally – wait for it… turn that Inbox to a 0! If you're anything like me, mine has currently hit an excess of 1800 so I better hop to it!
Motivation at work 100% feeds off appreciation. While there should be year-round recognition, Christmas is the perfect time to reward your employees. You've all worked the hard yards all year long, and to ensure this continues into 2019 why not recognise it with that end of year party, or even an awards ceremony (if you have a big enough team).
With the busy daily grind that comes with running your own business and trying to ace that work/life balance, it's no wonder we neglect to stop and think about how amazing our accomplishments are! Rewinding back to this time last year, I'm sure we've all crushed some incredible goals – big or small. It's time to reward thy self!
The team at AUZi are wishing you a Merry Christmas and a Happy New Year…. We're also ordering you to go on that trip that you so well deserve! May our guide send you smooth sailing into 2019.