Strategies to help small businesses this Christmas Season
This year has gone so quickly it's as if I blinked during March and it was suddenly December! Now Christmas promos and campaigns are popping up on every corner, it's the perfect opportunity for your business to thrive among the festive spirit.
Here are some Christmas ideas that you should adopt for your small business:
Put up Christmas decorations
Did you know that Christmas decorations aren't strictly for Christmas trees and the front of your house! Amazing right… I loveeee seeing how everyone will sprinkle a touch of Jolly Old St. Nicholas over their business. Venture away from simply adding a Christmas tree, and attempt to tie your brand personality in with your decorations. Use tinsel to dress up clothes hangers, candy canes hanging from jewellery stands, or fake snow on your table tops for instance.
Offer Christmas only promotions
Everyone loves a discount, especially at Christmas time. Draw in Christmas shoppers by putting together some hampers that contain a variety of your products, don't forget to present them in festive gift boxes or wrapping paper – a convenient purchase for your customers. Social media will be your best friend throughout Christmas, as everyone looks online for potential gift purchases. Thus, don't forget to promote your specials on your business pages. Without sounding too cliché, a 12 days of Christmas series where you offer a different discount daily is a great way to entice customers.
Add Festive flair to your branding
Have you noticed that Starbucks introduce a range of Christmas designs on their takeaway cups? You can do this too, though don't worry you can still get involved without forking out money to do so! Incorporate a Santa hat or snow with your logo on your social media profile pictures, or other digital and print marketing. Remember, if you do spend money on these things they can always be used in years to come.
Psst, here's an example of how we've done it in the past.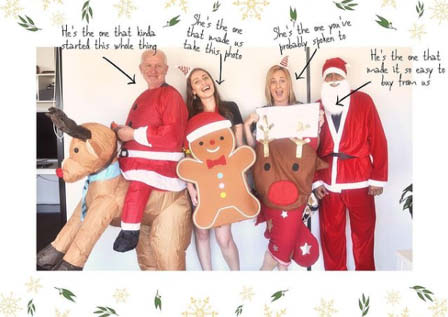 Run a Christmas competition
Everyone loves to get Merry, and what better way to make somebody's festive season just a little bit more exciting. Remember – your customers are your biggest fans after all! This is also the perfect opportunity to gain further followers on your profiles. Competitions that require entrants to follow, share and comment two of their friends on the post will produce great brand awareness. Offer the winner one of your Christmas gift packs, or better yet if you have a Christmas edition of your products, they will make for the perfect prize. Think… Gingerbread man scented candles!
Collaborate with other small businesses
You can actually work together and not against each other you know! Collaborating with another business that sell a product that directly compliments yours is a win for both parties! For example, candle stalls and home décor stalls are the perfect match. This way you can offer bundled deals which have you both effectively promote each other. I remember seeing a Facebook post last Summer where if you showed in store that you were following their pages, you would receive a free iced coffee from one store after buying a coffee body scrub from the other!
We hope these tips will help you get amongst the Christmas spirit this year! By implementing some of these strategies, we're sure this festive season will be a successful one for your small business.