So, you've finally transformed that dream into reality? Now you're thinking… what next? This brand spanking new business is now officially all yours to run! You're probably thinking one thing… Yikes. Running a business can definitely be overwhelming, but the wealth of access we have in 2021 to databases, services, and even blogs (… like this one) makes it more accessible than ever. That's why we've curated this list of Marketing Tips to help you get started.
Marketing is one of the aspects of business where your options are almost endless, and ever expanding. Between content marketing, paid ads, email campaigns, affiliate marketing, social media, SEO, networking… there's definitely a lot to look at. And with all of these options, it's difficult to decipher what will best suit your business model.
There are obviously many questions that need to be asked about yourself, and your business. Not every marketing strategy is suitable for every business, and adopting every marketing strategy will be so overwhelming – trust me when I say, you will burn out!
It's undeniable that today, social media is a no brainer – you have to be on there. Because let's be real, if you're not, do you even exist? Social media isn't only good for getting your brand out there, it's the perfect platform for you to network!
To get you started in marketing, we've put together some tips with examples to push you in the right direction.
Complete some Target Market Research
Any of these sections could have entire textbooks written on them… But we like to use the old KISS Idiom… Ask yourselves these questions:
It's as simple as getting to know your customers! Chances are, if you're making a product that you truly believe in, your views will align with your audience. It doesn't hurt to have a little chat while you're processing their order or making their coffee!
For example
I'm opening a marketstall that specialises in Acai bowls, protein smoothies, juices and other kind of fruity treats. Through details that my rewards program requires – I have figured that my ideal customers are aged 18-28, are highly active on Instagram and wear brands such as Lorna Jane.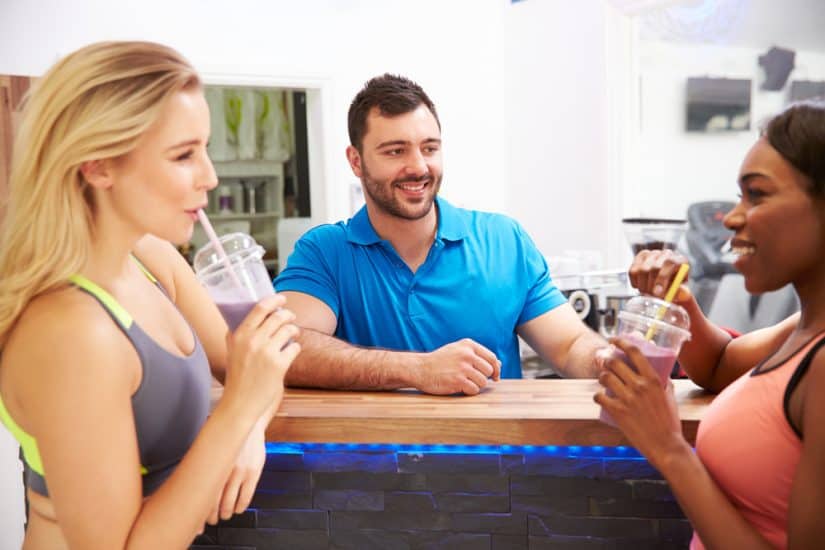 Find out where they Hang out
Are they the type that would spend their Sunday's at home lazing around scrolling through their Facebook feed? Or would you find them spending their Sunday's taking advantage of the free yoga at the park? You need to be able to place your product in front of your customer, so this step is essential in deciphering how to do so.
My target market spend a lot of time hanging out in inner city hubs, the gym, and love attending fitness events.
Align your Marketing with your Strengths
There's something to entice every personality on board your business! If you love meeting with people and making connections, affiliate marketing and networking events will keep you going. Research the areas that you enjoy, as well as what suits your target market and choose 2.
I love Instagram, I'm one of those people that will spend hours stalking and following my favourite gurus! Which is a plus since my target audience spend a lot of time on there also, thus – strategy number 1.
Fitness events such as free yoga in South Bank parklands are a perfect place to market my products, or even set up a pop up stall – who doesn't want an acai bowl after a strenuous workout?! – strategy number 2.
If you still want a life than this is the perfect number – BUT if you believe you can take more on, then go ahead but don't adopt more than 3 strategies to begin with.
Keep in mind, as a business owner you already have so much on your palette… management, accounting, customer service and production doesn't do itself!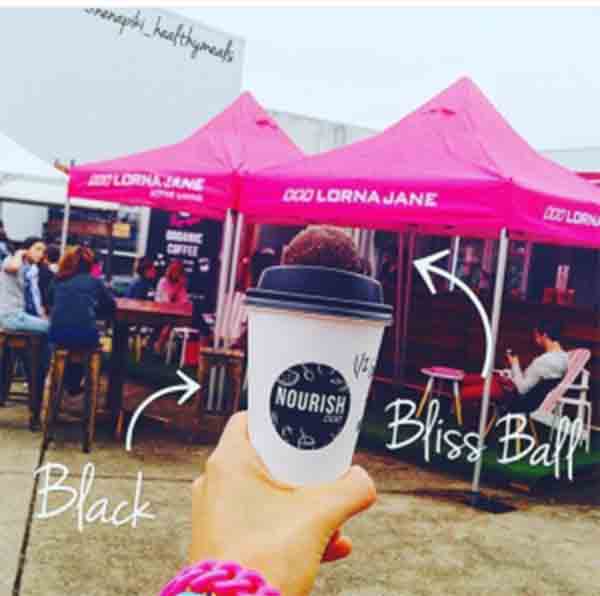 Lorna Jane has experienced great success and a mass following by marketing her 'Nourish' healthy cafe products at fitness events and on Instagram…because that's where her target audience hang out!
What if you want to be the best of the best?
Of course, if you consider yourself a workaholic and want to take on as much work as possible, that's totally understandable. In that case, here's some other avenues you can look at to give your business the edge:
Hone in your Unique Selling Point (USP):
Remember asking yourself the question, "What problem does my business solve for my customers?". Put simply, this is your USP. Do you meticulously source all of your materials from environmentally conscious suppliers? Are you closing the gap in the market by making a healthier product than your competitors? Do you simply put more TLC into your products than anybody else? 
You want to hammer this into your branding. Your promotion. Everything. You want your potential customers to know you're the best solution before they've even tried your product/service. 
Utilise Marketing analysis on your website:
This may be a little more technical than the other suggestions, but it's just as important. I'm sure by now in 2021 we don't have to suggest having an online presence as a Marketing Tip. You just simply should. However, tracking and analysis on your Webpage is definitely something that can be neglected by Small Business owners. There's a plethora of marketing tools and services out there that can help you understand your customers more. Some of these can even highlight pain points on your websites to help aid in conversions.
Again, this is getting a bit more technical. But if you really want to be the best, you gotta get technical. For the uninitiated, SEO is simply Search Engine Optimization. Now… SEO is literally a full time job for some Marketers. But that's because the intricate and strategic implementation of it can push you to the top page of Google.
There are so, SO many things to learn about SEO that it can absolutely get overwhelming. But I guarantee you, even the most basic of SEO can help your website's visibility. Have a look at some Youtube videos, and then look at the list of marketing tools to help give you an idea.
Try out some Blog writing!
Think about how you found your way to this blog post, and how you're reading it right now. If you came across this on our Socials, or Google – that is the exact reason you should try it yourself. Providing value to your customers doesn't have to JUST be by creating a great product or service. By presenting your audience with some of your own knowledge, it helps to build both your brand's personality and loyalty with your customers. Have a look at this guide for writing a blog.
In planning the launch of your strategy, there's no need to dive in as soon as you know what you want to do. There are many things you need to consider – software and design to say the least. Take the time to really ingest these marketing tips. Some may work for your business, while others may not. What comes next is up to you.
I would take at least two-three months to plan a pop up stall. Things like design and researching a suitable event take time to perfect.
Experiment with your marketing strategy
If you're so certain you know your ideal customer, then walk through your own marketing experience. The only way to find out what people think when they enter your marketing plan is to live it. This will allow you to chop and change where need be.
If this were all you need to know about marketing your business you would be laughing! But this is a good starting point.
Be creative, share exactly how amazing your business concept is!