Things you should be doing on Instagram for your Small Business
As a social media platform, Instagram is the pinnacle of visual brilliance meets user-friendly technology all in the one app. So, you shouldn't be surprised when I say that Instagram for business should be an integral part of your marketing strategy – especially if you have a small business.
Did you know? 62% of people say they have become more interested in a brand or product after seeing it in Instagram Stories (Hootsuite, 2019). With just under 10 million Instagram users in Australia alone, that is a huge opportunity to present your brand to your target market.
While yes you should still be using Facebook for business, there are several Instagram features that make it the platform of choice for many creative brands and businesses. To get you started, here are 7 things you should be doing on your Instagram for business account.
Switch to an Instagram for Business Account
To really make the most of Instagram's handy business features, you will need an Instagram for business account. You can make the switch in just a click of a button by simply going to the menu on the right-hand side of your profile, click settings then click account and scroll to the bottom. You will have the choice of either switching to a business account or a creator account. There are plenty of blogs that break down the difference between the two.
Which account to choose will depend on your brand and type of business. For the most part, a business account is best for small business as it allows custom audience targeting, analytics, paid ads, quick replies, third-party app integration (like scheduling) and call to action buttons. On the other hand, a creator account provides you with more insightful creator-specific analytics of your content. However, these features are evolving daily so always keep an eye out for changes.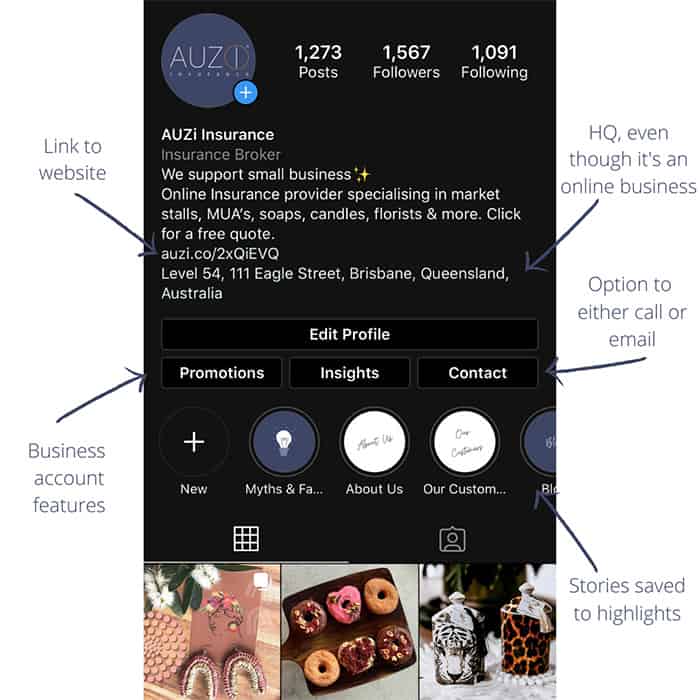 Show your Business Location!!
This one seems obvious however it is the most common information left out of Instagram accounts – where are you? OR How can customers buy from you? There is nothing worse than finding the most delicious looking cupcakes on an Instagram profile only to be left guessing if that business is located in your country, let alone city.
Whether you sell a product or a service, your customer needs to know how they can buy from you. This applies to every type of business. Whether it be your shop address, markets you attend, where you ship to, the delivery zone for food or where else customers can buy from you like Etsy for instance. Whatever it is, include it!
Abide by Instagram's Community Guidelines
Instagram didn't lay down their house rules for no reason. As a business, you must abide by them to avoid being penalised. If your account gets blocked or suffers a dip in engagement (reach, likes, comments etc), you won't be able to reap all those benefits that Instagram has blessed you with!
While it might seem so much easier to just pay a few bucks for some extra followers or likes, Instagram have ruled it a big no no. Their Community guidelines clearly state you must
"Foster meaningful and genuine interactions. Help us stay spam-free by not artificially collecting likes, followers, or shares, posting repetitive comments or content, or repeatedly contacting people for commercial purposes without their consent."
Yes, they take this very seriously. But this is a good thing, if Instagram recognises that you are fostering a genuine relationship between your brand and your following, you will be rewarded through further reach i.e. your posts will be shown to more people. Instagram's community guidelines don't stop there, definitely give them a read to ensure you're doing the right thing.
Tell a story, but stay on brand
Telling your brand story creates a powerful connection between you and your community. It allows people to feel like they are part of your business, that they can feel a genuine connection with your brands personality. It is the narrative behind the why, the facts, and the feelings associated with how your business came about. So, with that all said it's important not to skip this step in your marketing efforts. People love getting to know the faces behind the brand, the reason you started and the why/how behind what you do.
However, this is not your personal page and your personal page is not your business page. They are and should be two different accounts. There is absolutely nothing wrong with featuring yourself and your personality on your business page to help tell your brand story. But when it comes to Aunt Betty's 60th birthday and what you ate for breakfast this morning – probably not relevant. Unless Aunt Betty is your co-founder and you specialise in breakfast recipes 😉
P.S. as you tell your brand story, always use high quality and aesthetic images, there a plenty of resources to teach you how to take a good photo.
Make the most of Instagram's features
In an app that has over 350 million users, you really need to stand out from the crowd, so get creative in using all the cool features available.
Stories – people lurrrve seeing what goes on behind your perfectly curated feed. It could be as simple as showing videos of you pouring your candles, or setting up your market stall. It forges that little bit of intimacy between your business and your customers.
Audience metrics – The audience and engagement metrics in your Instagram for business account are available in two places – above your post you can click 'View Insights' for metrics to an individual post, or click 'Insights' in the menu on your main profile. These metrics are invaluable in helping you assess how your posts are performing. Then you can identify what content is worth continuing and what really shouldn't make the cut.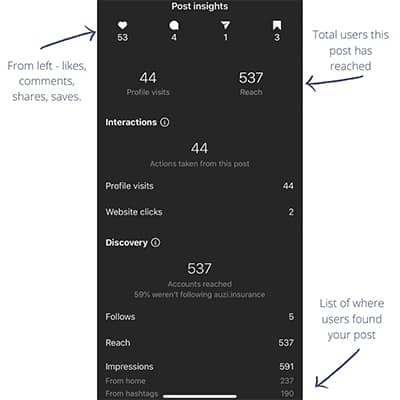 Instagram shop

– If your business sells tangible products, you have the added bonus of being able to set up an Instagram shop. This allows you to tag the product in your photo with a link that goes directly to that product page on your website. An Instagram shop is easy to set up. 
Hashtags – Using hashtags in your posts make it easier for your target audience to find you. You're allowed 30 hashtags per post, so use them! Change it up by using different hashtags in each post to experiment with which work best for your brand. Don't use only popular hashtags (i.e. #australia has 62.4 million posts). Use a mixture of popular tags and niche specific like #brisbanephotographer which has 347,000 posts. This will give you more opportunity to reach a diverse audience in the wider community as well as niche markets. Also, remember to only use hashtags that are relevant to your post or type of business.

Link to your website

– The bonus of being able to include the link to your website, Etsy, Amazon or Shopify in your account is that after a user finds your account, you can take them straight to your shop.
Keep up with the algorithm
The what ithm? Don't worry, it's not as scary as it sounds!
Anyone that works in social media marketing could write an entire essay on the Instagram algorithm. Although I wouldn't recommend it because let's be real, it changes so often that essay is bound to become irrelevant quicker than you can read it! So, I will vow to keep it simple and focus on the facts dished out by Instagram themselves.
In a nutshell, Instagram has stated the following about their algorithm
"If you could look through thousands of stories every day and choose the ones that were most important to you, which would they be? We hope the answer looks like your news feed."
Yes, it prioritises posts from your friends and family. This is great for your personal account, but a bit tricky when doing business.
The algorithm was introduced in 2016 and has since been given multiple makeovers to become increasingly accurate in pushing the most relevant posts to you, to the top of your feed. There are many factors that Instagram consider when doing this. But all in all, businesses must work a little harder to grow and reach their audience.
While this sounds like a huge pain, there are many things you can do to stay in the Instagram algorithms good books. This includes posting regularly, writing captivating captions, posting user-generated content (your customers photos of your products), and building genuine relationships with your followers. In other words, make sure you're working with the algorithm, not against it.
Co-Branding or campaign partnerships
In general, the most valuable (albeit strategic) relationships you make as a business owner is the one you establish with your fellow small business owners.
From complementing each other's products and services (a collection of brands contributing to a pamper box for Mother's Day for example), to learning from each other's mistakes and even stepping in to help when one of your shops get broken into. This kind of relationship extends to Instagram for business as well! The app even has the option to add partnership approvals to relevant posts to let your audience know your businesses are associated.
Whether it be as simple as giving each other a shout out on your story, or as complex as a candle maker partnering with a bakery to translate their signature chocolate brownies into chocolate brownie candles (genius!). You should be sharing the partnership and project with your followers on Instagram.
This is pure genius. Why? Because the success of your brand brings success to your partner brand, and vice versa. Your trusted customers are more likely to follow another brand that you also endorse. It's a win win for both parties. Read up on the best co-branding partnerships to get some inspiration and really step up your Instafame.

Other blog posts you might like