9 Low Budget Marketing Ideas for Small Business
Most small businesses aren't in a position to facilitate a large marketing budget. However, this doesn't mean that no marketing efforts should be made. In this digital world, business owners are presented with plenty of marketing opportunities that suit any small budget. Here are some marketing ideas for small businesses that won't break the bank.
A good social media strategy
Harness the power of free marketing platforms, as they're a gift that keeps on giving! Social media reigns supreme as the ultimate marketing tool in today's world. Maximise its potential to the fullest extent. Establish your business presence on Facebook, Instagram, Twitter, LinkedIn, TikTok, and Pinterest. Populate these platforms with captivating content designed to entice your desired audience.
Here's an eye-opening stat from Hootsuite: For 54.9% of Facebook users, the platform serves as their primary hub for researching brands. In fact, a remarkable 66% of all Facebook users routinely explore local business Pages at least once each week.
We strongly believe that Pinterest is the Underdog of Social Media for handmade craft businesses. Do not leave this platform out!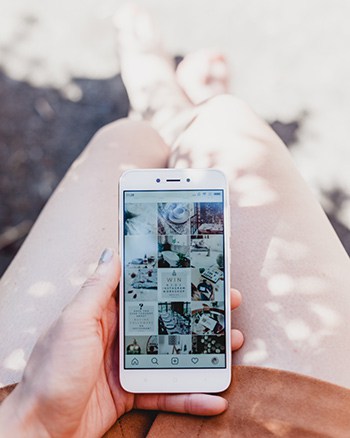 Partner with other local small businesses
This is up their in our favourite marketing ideas for small business. The small business community is your shoulder to lean on, your best friend and your inspiration. Don't forget that you should be lifting each other up, not playing the competition game. There are many ways you can start a mutually beneficial partnership between yourself and other small businesses. Often, this may not cost you anything at all.
Some examples of partnerships are a candle business partnering with a grazing box business for Mother's Day. Providing discounted candles is the perfect addition to their boxes, and it also gives you more brand awareness and most likely new returning customers!
One more example to get those ideas underway could be a hairstylist and a makeup artist. Their partnership could be to provide a package that includes both a hair and a makeup service to year 12 students attending their formal.
Begin a customer referral program
Wouldn't it be lovely if your customers could do the work for you? Well, they can. Positive word of mouth can double your audience before you can even whip up your next paid advertising campaign. When existing customers refer a friend, reward them with a period of free service, discounts or any incentive that reminds your customer that you appreciate them! You can of course organise this yourself, but there are apps you can utilise that will do it on your behalf like Rewardle and Lootly.
P.S. Make sure your customers know where to review your business. Positive Google reviews are great for SEO and extremely vital for every business! 
Ensure your valued customers know exactly where they can share their thoughts and experiences about your business. The impact of positive Google reviews goes beyond just a pat on the back. It significantly boosts your business's SEO, making it more visible and appealing to potential customers.
We know all too well, that it can be daunting to ask for a review from a customer but trust us when we say it is vital and after the 100th time, it feels a little less daunting. This can be as simple as creating a Thank you card to add to your packaging, that provides your customers with a bit of background information about you and requesting they leave you a review. (insider tip: Canva is your best friend here, you can wipe up a template and print it out in no time) 

Don't hesitate to invite your satisfied customers to share their feedback on platforms like Google. It's like giving your business a digital high-five that resonates with others seeking exceptional services or products. The more genuine positive reviews you gather, the stronger your online reputation becomes, painting a compelling picture for prospective clientele.
Chances are, you frequently peruse blogs for a variety of needs, whether it's locating the finest local coffee shop, perfecting your winged eyeliner technique, or mastering the art of cooking a mouthwatering steak. Blogs have essentially become the modern-day encyclopedia of 2023. Blogging about topics relevant to your industry can significantly boost traffic to your website. And here's the beauty of it – you don't need to be an SEO expert or a wordsmith extraordinaire to get started. In fact, you don't even have to be a seasoned copywriter, thanks to cutting-edge AI like CHATgpt, which can provide you with a solid foundation that you can then tailor to your unique voice.
Now, let's throw some compelling stats your way to underscore the importance of hitting those keys:
**Engagement Booster**: Research from ContentPlus reveals that a whopping 60% of consumers feel more positively engaged with a business after perusing custom content on its blog.
**Information Seekers**: According to DemandGenReport, a significant 47% of buyers make it a habit to consume 3-5 blog posts before initiating contact with customer service.
So, if you've been on the fence about starting your blog, these statistics should nudge you in the right direction – toward the keyboard, where your next engaging and informative post awaits creation.
If you manage a blog and find yourself short on time or resources to create fresh written content, don't despair – recycling is the name of the game. Take a stroll down memory lane through your archive of old blog posts, breathe new life into them by updating and enhancing the content where necessary, and voila – it's ready for a repost! (🤫 Do you want to know a secret… this blog is a pure example – repurposed baby!) 
This principle extends seamlessly to all forms of social media content as well. Dive into your social media insights, where hidden treasures await. Repurpose and reshare the content that resonated most with your audience, giving it another chance to shine. Your valuable archives hold a treasure trove of evergreen content waiting to be rediscovered by your audience.
Many customers are drawn to visually appealing content that effectively promotes your business. Infographics provide an ideal canvas for showcasing your unique selling points, whether it's handmade with love,  support for small businesses or the use of sustainably sourced material/ingredients.
For small businesses offering services with multiple stages, such as wedding planning, or those in need of a clear way to explain their offerings, like business coaching, natural therapist infographics are invaluable. They present information in a format that's easily digestible and highly shareable across social media platforms, making them a potent tool for generating leads.
While hiring a graphic designer can be costly, there's good news: You can create your own eye-catching infographics without breaking the bank, thanks to the availability of free apps. Our personal favourite happens to be Canva, a user-friendly option that empowers you to craft compelling visuals with ease. So, whether you're spotlighting your unique products or simplifying complex services, infographics are a budget-friendly route to captivating your audience.
Social media places your customers at your finger tips. Running a competition can be a cost-effective and quick way to engage your audience with your brand. Here is an example of a competition we ran for Mother's Day. It involved products purchased from our customers so that we could support small businesses while we were at it. To enter, they simply had to like our page and tag a friend.
Hot tip: Make sure you are collaborating with like-minded businesses that attract a similar target audience. I.e. other handmade small businesses. The goal of the competition is to get your brand in front of other potential customers not just to increase your following with people who are never going to buy from you or who will just unfollowing after the competition.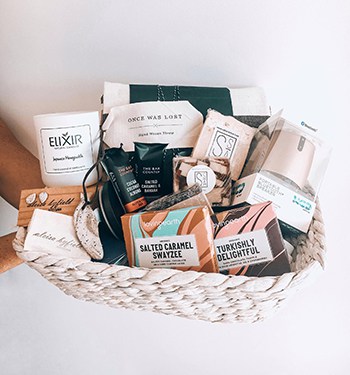 Get involved in community events
Supporting events in your community offers so many opportunities to market your business. This can be done by simply contributing to a local contest. If there is a prize up for grabs at your local market or event, donate one of your products or vouchers for a free service to be included in the prize package.