With 600 stalls to peruse, and a promise of a unique, crafty, and foodie dreamland, we had to check out the famous Original Eumundi Markets. 
Since 1979, Eumundi have been dedicated to their ethos to 'make it, bake it, grow it, and sew it.' Over 30 years ago, ceramic artist Christa Barton and friend Gail Perry-Somers had the epiphany to create the ultimate European style 'artisans and farmers' market – and boy did they succeed.
In a community of artisans, craftspeople and refugees from suburbia, these ladies grew a marketplace of original artworks, sculptures, furniture, handmade toys, homewares, skincare, and cutting edge fashion and jewellery brought to you by none other than the locals!
The home of openness, sense of community and a simpler way of life is what has attracted 1.6 million market goers annually! With several independent organisations also setting up markets adjacent to The Original Eumundi Markets, the area has transformed into a market goer haven!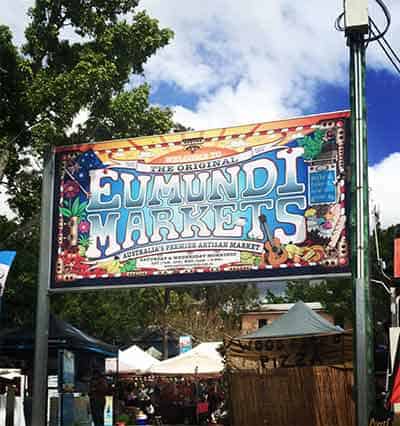 What to see at Eumundi Markets
We've reckoned there's something for everyone, young or old…Here is some of the highlights we saw on our day at the markets.
Whether you're looking for something different, special, or something handmade, Eumundi Markets definitely aren't short in offering you just that.
The handmade greeting cards and candles at 'Paper Birdie' were one of a kind and definitely didn't lack any character.
Talent and creativity is seen everywhere at this market, though one stall that really stood out to us was 'Dunkee Natural Design.' These dreamcatcher extraordinaires took design to an all new level with the use of Catsclaw vine and unique feathers.The products at 'My Soap,' looked good enough to eat, literally! The handmade soaps looked so much like cake, and smelled just like it too!
For a personalised gift, or something special for yourself, you can even make your own jar of bath salts with a variety of yummy scents.
There were a range of local designers selling their special threads, including the lovely 'Abby Rose Bikinis.'
We let out our inner sweet tooth, indulging in some Salted Caramel fudge from '16 Degrees Chocolate,' and some delectable Smores brownies from 'Mee Sweetee.'
Though the market also had a plethora of coffee, fresh fruit and veg, a range of international cuisine, as well as locally made goods.
When you're all shopped out, there's entertainment aplenty with local artists singing and performing their talents.
Or.. You could even take the kids to meet some chickens and baby lambs at Little Critters mobile farm and petting zoo!
Or sit, relax, and enjoy the services offered… we went to 'Malli's Threading and Henna Art' and left with a beautiful design on our arms.