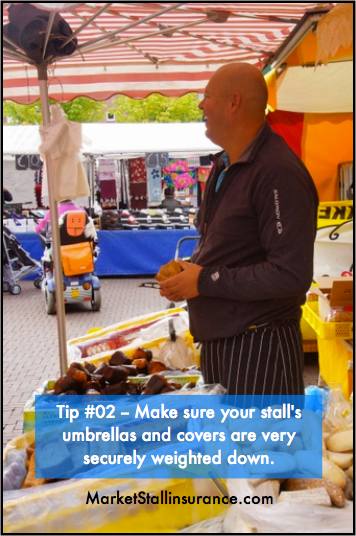 Market stallholder umbrellas are great except for high wind and torrential rain.
Tip 002 is to make sure you have some kind of weights in place as you're setting up your stall, so you won't have to rush around if bad weather strikes.
There are many types of weights available for your umbrellas, stands and tables etc – you might use a combination, for example small bags of sand draped over the rung on chair and table legs will hold them in place. For something more robust for the umbrellas, cement blocks and even water weights will work well.
What do you use on your stall? Send us a photo if you'd like us to publish it on our site, we'd love to see how you handle this type of market stall situation.
Your Say on Market Stallholder Tip 002
Do you have any tips to share? We'd love to hear from you – please type your comment below
Visit our Pinterest Board: "20 Tips for Market Stallholders"