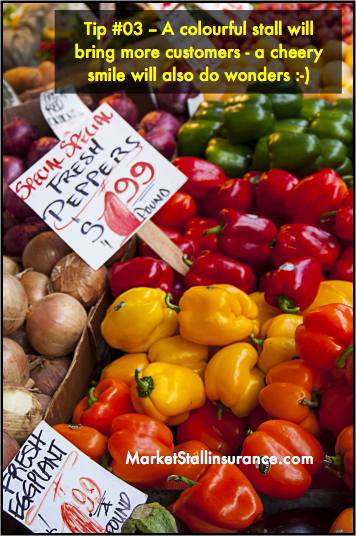 When you go to a local market of any kind, what draws your eye?
I think most of us would say "colour" so that's Tip 004 – make sure your stall is colourful enough to attract everyone's attention.
Something else which makes me stay longer to look at what's on offer is the friendliness of the stallholder — if they give you a big, warm, welcoming smile you'll probably hang around and have a bit of a chat. I know I do 🙂
Your Say on Market Stallholder Tip 003
Do you have any tips to share or have you experienced anyone being lovely and friendly with a colourful stall? We'd love to hear from you – please type your comment below.
Don't forget to pop over and visit our Pinterest Board so you don't miss out on any of them: "20 Tips for Market Stallholders"