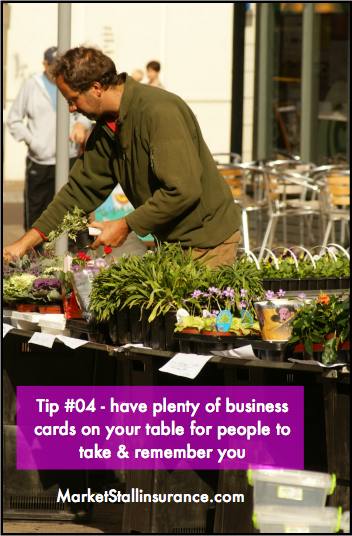 For this tip I'm going to suggest something that's really simple but is often overlooked — business cards.
That's right – Tip 004 is to make sure you have plenty of business cards on your table. If someone's not ready to buy, they might pick up a card and call you at some other time, or — and this is a biggie — they might just visit your website …. you DO have a website for your market stall, don't you? Even if it's one page with some great photos and your contact details, it's a simple way for people to find you online and find out where your market stall will be next week.
So that's today's homework, get some colourful business cards printed to have in easy-to-find places on your market stall. If you've already got some, why not send us photos? We'd love to see your great business cards AND your stall!
Your Say on Market Stallholder Tips
Do you have any tips to share or you have great business cards already? Or if not, do you have an idea for some? We'd love to hear from you – please tell us about them when you type your comment below.
Don't forget to pop over and visit our Pinterest Board so you don't miss out on any of them: "20 Tips for Market Stallholders"