Every Sunday 7am - 12:30pm
These guys play host to stalls that know how to take breakfast to a whole new level. Fruit salad in a pineapple? Mushroom eggs benny? Flaky golden pastries? They've got it all covered!
This market is located at the beautiful heritage listed Eagle Farm Racecourse in Ascot. The fresh food hub boasts over 100 stalls each week, serving up a foodie dream. Head on down and start your morning with a good brew, enjoy a plethora of breakfast options and be entertained by local artists.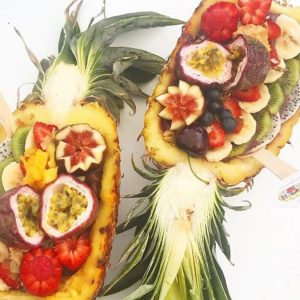 Jan Power's Farmers Market
Jan Power's Farmers Markets pride themselves as an icon of Brisbane's food scene.
The markets place an emphasis on quality local produce. Every week, over 300 growers are present, showcasing their flavours. For an open-air market that houses artisan goods, fresh farm produce, and French delicacies, Jan's your girl! Did I mention there is vegan, gluten free cooking dough? That's a breakfast food, right?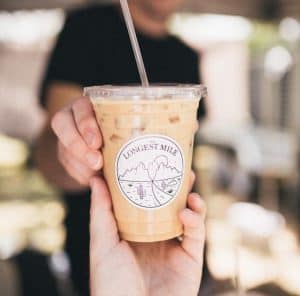 Hinterland Harvest Market
Every Saturday 7am – 12am Woombye
The Hinterland Harvest Market are on a mission to showcase the array of chemical free and organic produce from both the local and the wider farming community.
The market nurtures the connection between farmers, consumers and local food systems. This impressive community event has been running for over 15 years, providing a space for foodies to enjoy the best creations of the hinterland region.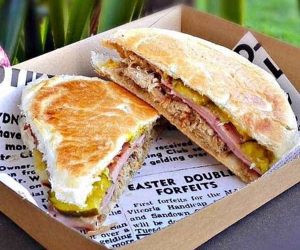 Palm Beach Currumbin Farmers Market
Every Saturday 6am - 11:30am
Rain, hail or shine, this market serves up one for all with gluten free, sugar free and vegan options galore.
Head to Currumbin State High School every Saturday for a breakfast that may include but is not limited to ice cream – it's healthy, we promise!
If you're not yet convinced, you can also find smoothie and acai bowls that look too good to eat. Got you yet?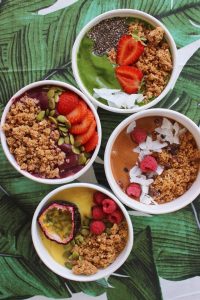 You're right, this is not a market, but it is one marketstall that has raised the bar for healthy market bites.
We won't be surprised if you have already found yourself lining up for a MiO wrap at your local market, because how good are they?!
This team roll a Buckwheat wrap crisped to perfection, filled to the brim with your favourite salads, sauces and other fillings. Don't miss out on breakfast with these guys at the weekend markets!