Being based between Brisbane and the Gold Coast, we thought we were spoiled for choice with our thriving café scene. Turns out the coffee culture in Adelaide undeniably wins this match. During our recent trip to the City of Churches, we discovered the divine waft of specialty coffee from Adelaide cafes lingering at every turn.
From cosy espresso bars to a digital nomad's urban haven, you could say we drank our weight in coffee – for research purposes, obviously. As delightful as it was to be café hopping all weekend, we wouldn't recommend consuming that much coffee in just 48 hours. Luckily, you don't have to, we've done the research for you.
Here are our top picks for the best coffee and cafes in Adelaide.
While we only stopped in for a coffee, we hear Cotto Café was sent to Adelaide by the culinary gods. We can confirm that their extensive range of sweets in their cabinet looked delicious, and we can't leave without saying those interiors! Aesthetically pleasing to say the least.
Their brew bar is a dream with nitro coffee, cold brew, batch brew and even kombucha on tap. All crafted in house by their head barista's.
Formerly a bank of Adelaide, Crack Kitchen has so much character it was love at first sight. We devoured a brekky that more than satisfied our rumbling bellies, coupled with a perfectly poured coffee to wash it down. These guys roast and blend their coffee on site from their roastery on the mezzanine level of the building. We're also here to give their interior designer a pat on the back – props to you creative one!
Priding themselves on their unique style being a mix of 'old and new'. Public is inspired by old railway stations and grand libraries. Yes, it makes for the perfect spot to enjoy a cup of liquid gold. We had our final coffee and brekky here before boarding our plane home. It certainly ended our first impressions of the Adelaide coffee scene with a bang!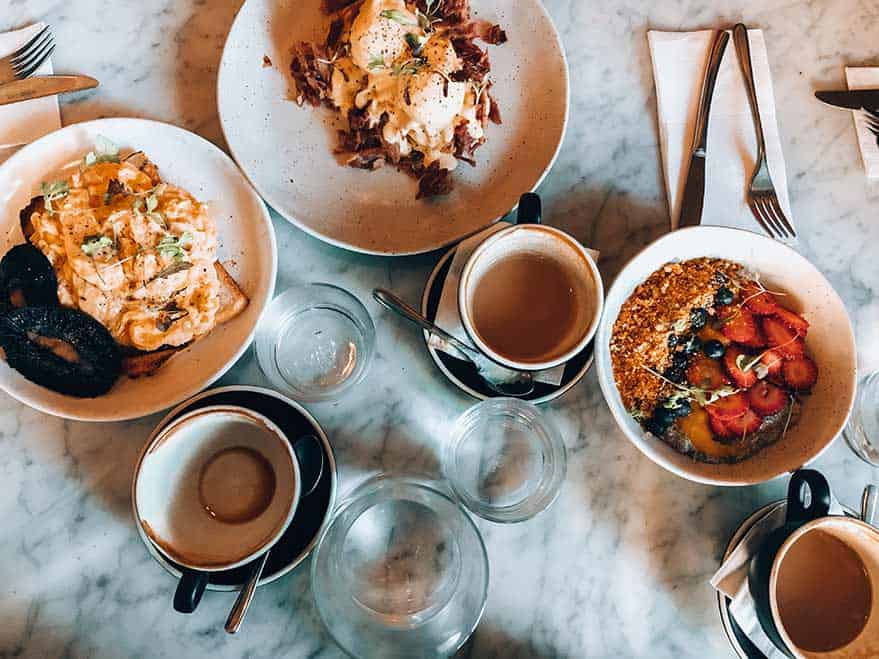 Felici – it's Italian for happiness. Which is exactly what their coffee brought us! Felici Espresso Bar is also located in Adelaide's East End, serving as another key addition to this vibrant side of town. Afternoon tea was a ham and cheese croissant and a flat white – bellissimo!
Not a café, but definitely worth a try if you come across them at an event around Adelaide. Seabreeze source their beans from Two Fish Coffee in the Adelaide Hills who locally roast a blend from the Dukunde Kawa Co-op. Their team of baristas smashed it at the busy market we paid them a visit at. A pleasure to make your acquaintance with a good coffee in hand, thank you Seabreeze!