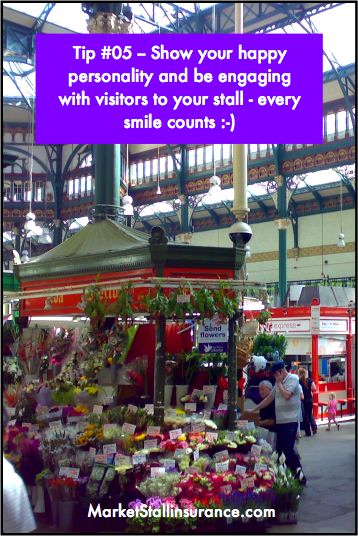 When you visit a market, it can often feel like a carnival with a great happy atmosphere.
As a stallholder, it's important to put on your happy face, even if you're feeling exhausted 🙂 (Those 5:00am starts are so hard!)
Being friendly and smiling at all your potential customers will make you feel good, because they'll smile back.
What makes you smile? Do you have something you can take with you to keep you cheery? Maybe it's music, or something to hand up — whatever it is, take it with you.
Maybe it's as simple as remembering to take a fold-up chair with you for when you're feeling tired.
Smiling frequently makes the day more enjoyable — and we do hope you have a fabulous day!
Your Say on Market Stallholder Tips
Do you have any tips to share like Market Stallholder Tip 005? Or if not, do you have an idea for some? We'd love to hear from you – please tell us about them when you type your comment below.
To see all the Market Stallholder Tips, pop over to the main page >>
Don't forget to pop over and visit our Pinterest Board so you don't miss out on any of them: "20 Tips for Market Stallholders"