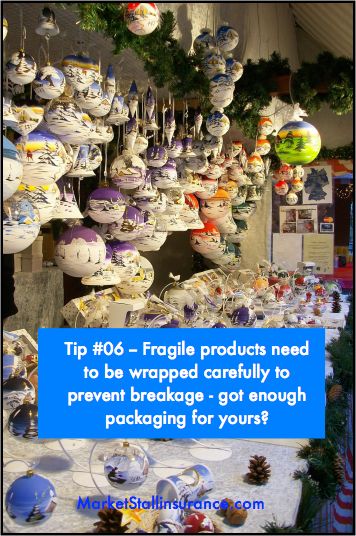 If you sell fragile products at your market stall, you'll need to make sure you have the right wrapping materials, whether paper, plastic or other packaging.
The market stall visitor – your potential customer – probably doesn't have anything with them to put their fragile items in, so it'll be up to you to make sure you have suitable wrapping to protect their purchases.
Some types of packaging are:
tissue paper
brown paper
other types of wrapping paper
plastic wrap
bubble wrap
cardboard boxes
cellophane bags
cellophane boxes
the list is endless!
Make sure you're prepared, add this to your Checklist.
Your Say on Market Stallholder Tip 006
Do you have any tips to share? We'd love to hear from you – please type your comment below
Visit our Pinterest Board: "20 Tips for Market Stallholders"