How to set up a Market Stall
Markets are a great platform to take your business to the next level; whether you're just starting out in the business world, or you're wanting to move from a brick and mortar to the market scene fulltime. Here is the AUZi Insurance guide on how to set up a market stall.
Research potential markets to sell at. You know your customer best. So, visit the market before committing to evaluate whether it will appeal to your ideal customers. Also, is there room for you? If your products are already sold by two established vendors in the market place, there may not be room for you. This is why it is so important to do your location research when setting up a market stall.
Don't forget your display
If a consumers sees two stalls that sell the same product, though one has put more effort into a well-designed display, which one do you think they will choose? Is your stall inviting? Does the design accommodate your target customer? And more importantly, is it aesthetically pleasing?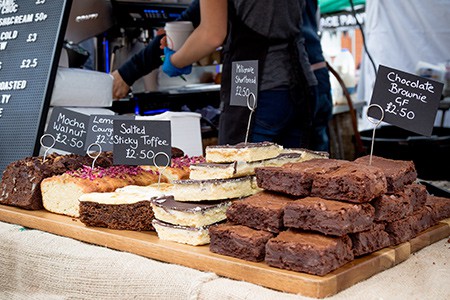 Overpricing is a surefire way to make customers walk in, and walk straight back out. Do your research and see what other successful businesses are charging. Though don't sell yourself short! Remember* Appealing to your customers is great, but you still need to cover your expenses! Learn how to price appropriately and do the math. 
There is one little step that tends to be forgotten when setting up a market stall for the first time – cash! Nothing sucks more than being handed $50 note after $50 note and having absolutely no change to give your customer! Remember to have your float ready for this. Also, bring plenty of products in case you need to restock. Don't forget your business cards so that customers can follow you on social media.
In 2022, you're lucky to have free marketing at your finger tips – social media. Connect with your customers, make sure they know what you have, where you will be and when! Don't forget to tag the page of the markets you will be attending in your posts. There are plenty of blog posts to get some inspiration and learn how to use social media for business.
The market community has so many Facebook groups bursting with stall holders ready to support each other. Networking can be very powerful, so use it to your advantage. Join the general Australian market stall groups as well as the location specific groups for set up feedback, advice, market updates, opportunities and business tips.
Don't sit behind a table with your eyes glued to your phone! Get to know your customers, find out what they want, and how they feel about your products. There are many designers and producers that debuted at the markets and launched into success, this is how to follow their footsteps. Though don't oversell, some customers like to be left alone to browse.
Conditions differ from market to market, some may include public liability, though most require you to sought out your own cover of at least $20 million. If the market includes insurance, find out what it covers you for, as it may not be sufficient for what you will be selling. Also, to ensure you are covered by your insurance policy, you must comply with local legislation, such as the Australia & New Zealand food standards code. At AUZi, you can get an instant free quote for market stall insurance.