Soap & Candle Makers Insurance
Public & Products Liability Insurance for Soap & Candle Manufacturers
Annual Cover Starting from
$30.25/Month
Instantly generated Quotes, Purchase online in minutes.
As a Soap maker, you have your FO and oil combination, your drop swirl and frosted tops perfected. If you make Candles too, you will have aced your recipe to precision. Running a Soap or Candle Business doesn't stop at creating the perfect product, however. From marketing, to admin work, ordering supplies, and selling at the markets – there's a lot that going on in between. This is why taking out a tailored insurance policy is a business essential in your industry.
Why AUZi's Soap & Candle Maker Insurance?
Our role in Australia's Soap & Candle Industry
AUZi operates a little differently to traditional Insurance Brokers. Rather than offering a general policy, our Brokers have done extensive research (yes, they've even made soap) into your industry to tailor an insurance policy that perfectly aligns with Soap & Candle Makers.
We love getting to know you all and learning what makes a Soap or Candle business tick. We've learnt all about AICIS, Compliance and even taken part in a soap making workshop (would any candle makers like to take us next?). With this insight, we have created a policy that fits your business like a glove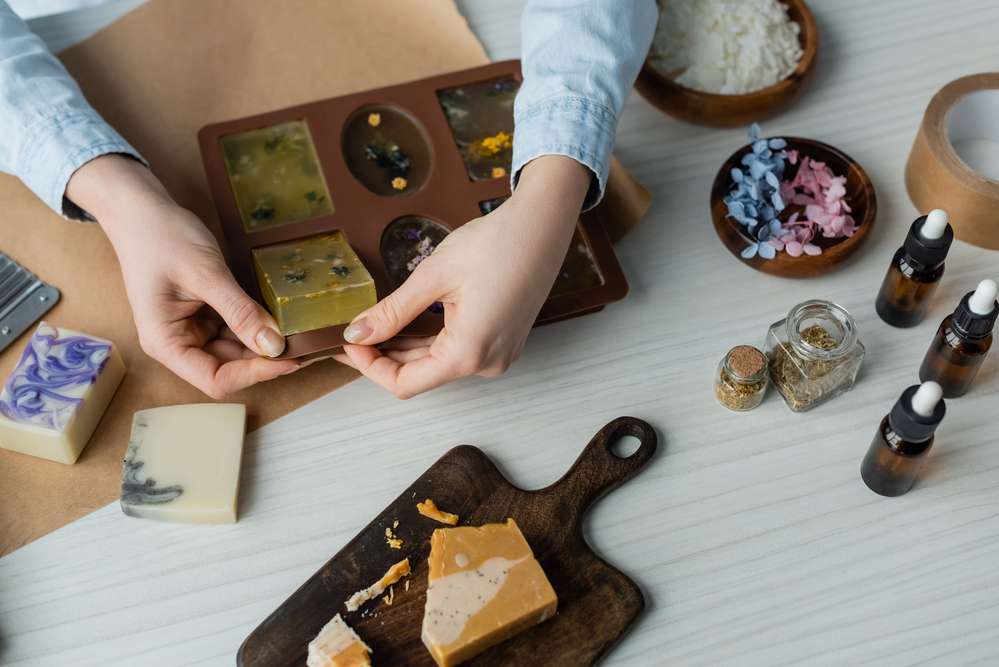 Okay, but do Soap & Candle makers really need Insurance?
Yes. However amazing your soap or candles might be, this doesn't remove the chance of human error. Between making deliveries, picking things up from the post office, operating your selling platforms and creating a product that is used on the skin, there are several risks that your business goes through in just one day, let alone years of operation.
Public and Products Liability insurance can protect you in the event of a claim being brought against you and your business. A claim can not only be time consuming, but it can be costly enough to put you out of business and jeopardise your livelihood.
What's Covered under AUZi's Soap & Candle Makers Insurance?
Soap and Candle Maker Policy Prices
Annual Cover

13 Months of Cover for the Price of 12
You can Now Add Dish & Laundry Soap to your Soap & Candle Policy.
Additional Costs Apply. Add it during the Quote process, or upgrade your Policy from your MyAUZi account.
1: As long as being sourced from local suppliers and are not being imported. Electrical Diffuser sales must be less than 10% of turnover. 2: Assuming Lip Balms sales do not count for more than 10% of turnover. 3: Subject to pure essential oils with carrier oil ingredients only  4: Subject to all ingredients being natural and non-hazardous.
Important Info
All Products including manufactured and imported goods must meet and comply with Australian Standards and in particular ACCC, AICIS and TGA standards. Soap makers and/or importers must comply with AICIS requirements. It is also the customers duty to understand the requirements and whether they need to be registered with AICIS to be able to import, manufacture and sell their goods.  Goods imported into Australia need to meet the applicable standards that are determined by the government.
Don't take it from us: Here's what some of our Customers have to say.
I found AUZi easy, convenient and affordable. Having one insurance that covers all the products I manufacture and sell has brought me peace of mind.
Fantastic to deal with and work out the best policy at the best price. Highly recommend the entire team at AUZi.
Here's some of our Frequently Asked Questions for Soap & Candle Makers;
Chat live with our Specialist Brokers, Nicole & Tracy by hitting the live chat bar below. Only available during Office hours.
Alternatively, give us a call on 1300 939 698, or email us at mail@auzi.com
Implications of Cancelling your Product Liability Cover.
Products Liability is an occurrence-based wording. This means, the insurance needs to be in place at the time the incident occurred for there to be a valid claim.
If you cancel your insurance today and an incident is notified and/or occurs tomorrow for a product or service you provided last week, you will not be covered. Read more on this here