Whether you're a veteran soapie, are in the process of crossing your T's and dotting your I's before launch, or are simply doing some research into the industry, there's one constant you'll come up across – The Australia Industrial Chemicals Introduction Scheme (AICIS).
For the veterans, AICIS is a no-brainer on their annual checklist. For the newbies, though, it can be a little overwhelming, to say the least. 
AICIS previously known as, The National Industrial Chemicals Notification and Assessment Scheme (NICNAS) has existed in Australia since 1989, acting as a guiding light for Soap makers and Cosmetic Manufacturers alike.
However, although it's been around for decades – it hasn't always been entirely transparent. Prior to July 2020, before NICNAS was rebranded as AICIS, it was a lot more difficult to find the important information you needed. 
However, thankfully with this switch they updated their documentation and worked on making it much simpler to find the information you need as a Soap maker working with chemicals and/or a cosmetic importer. Yes, you read that right, it used to be harder – how is that even possible??
As simple as it is now, it can still be confusing – and we're here to clear up some of that confusion. 
AICIS is a business essential for those intending on selling soaps or cosmetic products in Australia. The scheme has been put in place to protect Australians and our environment from the risks of industrial chemicals. They also provide the necessary information to promote their safe use.
The term industrial chemicals account for a broad range of chemicals used in soaps, cosmetics, adhesives, paints, inks, plastics, solvents, glues and more.
AICIS have created a very quick and easy quiz that will help you determine if you are required to be registered or not, check it out HERE.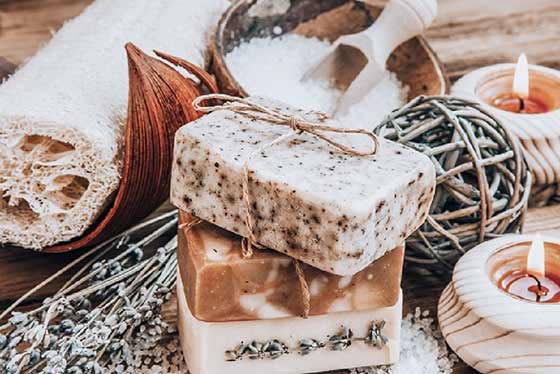 Psst... Did you know it's pronounced 'Ay-Kis'?
What's the AICIS deadline people are always fussing about?
AICIS registration year is September 1st – August 31st every year and they do not offer pro-rata registration ☹
This means your registration starts from the date you register with them and expires on August 31st each year. You must be registered before you introduce industrial chemicals in any registration year.
AICIS: The Important Stuff
If you Import/Manufacture (introduce) Industrial Chemicals (or products that release industrial chemicals) — into Australia for commercial purposes, you must:
Register your business with AICIS and pay a fee.

Each chemical imported/manufactured (introduced) must be authorised under 1 of 5 categories. These are – Listed, Exempted, Reported, Assessed or Commercial Evaluation. Check the Infographic below.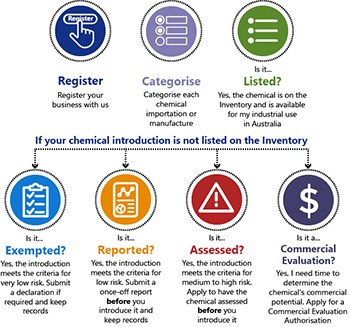 What's Classed as Manufacturing?
The definition of what is and isn't classed as manufacturing tends to vary depending on whose Facebook comment you read… Good thing you've got us to clear the air 😉
The Department of Health's website itself deems the following examples (but are not limited to) as Manufacturing;
A common example in Soap Making – Mixing fat/oils with sodium hydroxide to create soap.
The production of soap which involves Saponification.
Anything that involves a Chemical Change. This includes some extraction processes done to make essential oils. For example, steam distillation.
Polymerisation – the term for combining a large number of small molecules to make a smaller number of very large molecules. This process is often used in the process of making acrylic polymers like nail polish and varnishes.
In general, if you are in any way mixing chemicals (or products containing chemicals) that will result in a chemical reaction, this is classed as manufacturing.
Note: Almost every ingredient used in Cosmetics & Soaps is regulated as an Industrial Chemical under the Industrial Chemicals Act 2019. This also includes any ingredient described as Organic or Natural. 
It's always hard finding the right info. Which is why we put some questions to a few community groups on Facebook. We've trawled the AICIS website for you, so that you can spend as little time there as possible. Although a little time still amounts to a lot with AICIS.
Please note that these answers are simply from their website and everything should be confirmed with both AICIS and any other applicable governing bodies first.
Why is AICIS' Registration on a certain date?
The Registration renewals are tied in with their Business Registration year which runs from September 1st to August 31st, every year. The registration year and reporting cycle are set in the Industrial Chemicals Act and cannot be changed, refer to Section 5 for details.
I'm Importing Cosmetics, do I need to Register?
If you only import cosmetics and not industrial chemicals, you will still need to register as the ingredients in the cosmetics are deemed industrial chemicals.
I'm making Hot/Cold Process Soap, do I need to Register?
If you are making a profit (even 5c) from your soap making, YES you need to register with AICIS.
If you are purely making soap as a hobby and not making any profit/money from your hobby, you do not need to register. 
I'm making Melt-and-Pour Soap, do I need to Register?
If you have purchased your Soap Base and other ingredients from within Australia, no you do not need to register. However, you should still be aware of who AICIS is, as their website hosts a multitude of knowledge
AICIS should be your first point of contact when it comes to starting a Soap and or Cosmetic business. Their website offers endless amounts of information relating to your requirements with labelling, SDS and Packaging, an easy quiz to help you figure out if your products are actually cosmetic items and so much more.
The responsibilities of AICIS are defined in the set in the Industrial Chemicals Act 2019.
AICIS have conveniently created an online checklist for you to further understand what it is, and your obligations. To start your checklist, click here.
If you're still feeling a little unsure if you need to register, please contact AICIS directly via the details below, as their website is only a guide.
Free call: 1800 638 528  |  Phone: +61 2 8577 8800  |  Website: https://www.industrialchemicals.gov.au/contact-us
Note: You should also contact your local Council for their Rules & Regulations on the production, manufacturing and/or sale of Soap in your region.
Need Public Liability or Professional Indemnity Insurance?
Here are some of our top policies