Soap Business Insurance Essentials
Soap making is an extremely popular and creative industry. With many new soap makers coming on the scene daily, it's raising the bar on differentiating makers from the rest. After learning to make soap with Linda from Naturally Quirky, I must admit I can see why it's so popular – it's such a fun and interesting process. The anticipation before cutting that slab/log/loaf (whatever you prefer to call it) is well… exhilarating.
Though as a soap business, your talents (and interest) may only lay within the creative side of your business. Getting that soap blended to perfection or looking good enough to eat. So, it's a no brainer that when we turn to the boring business side of things, you might begin avoiding it like old lye.
I can't see anyone suffering injury from a bar of soap.
So, why do I need Insurance for my soap business?
The first thing that comes to mind for soap business owners is generally "I can't see anyone suffering injury from a bar of soap so why do I need the cover?"

And that is a good question, as it is no lathering matter.
A business as a whole has many aspects other than the final product. For soap businesses, there is a lot that goes on behind making a bar of soap. I won't lye, you have your hands full with picking up supplies/ingredients, delivering your soap to the local hairdresser who retails them for you, and then there is the company that you wholesale to who are expecting deliveries weekly.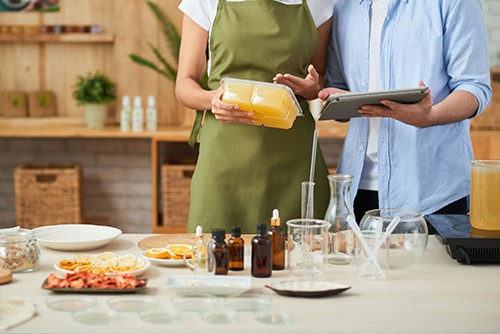 Running a soap business is more than just making soap
There a many levels of exposure which are dependent on several factors. Some soap business owners are lucky to have their own little soap making den out the back of the house, while others have to make it in their family home. 
Some even have their own commercial premises which can entail another Insurance requirement such as Plate Glass Cover, Machinery Breakdown or even Contents cover.
Moreover, are you making all your products yourself? Remember, whether or not you have made a product yourself, as soon as your label is on it, you're deemed the manufacturer in the eyes of any Insurance company. 
A day in the life of a soap maker
Who are you engaging to assist with the final touches such as labels, packaging, deliveries or even distribution? This could have an impact on your Insurance.
It's time to start selling! Where exactly are you selling? Are you selling just within Australia, or the USA, Canada or another overseas country? These are important questions as in general, many standard covers will exclude sales to the USA and Canada. If you're predominately selling to either of these countries, your Insurance might only be covering the domestic products you sell.
Do you sell at the markets?
Like any creative business, many small businesses sell on multiple platforms. This could include on social media, Etsy, your own website, stocking at your local shops or at your local market. Therefore, you need a dynamic policy that will cover you to sell in all these instances. Don't assume you're properly covered everywhere you go.
Once your product has left your hands, it's out of your control!
You could have the most stringent testing procedures, having all your quality control measures in place. But, errors happen to even those with the finest attention to detail. This may lead to a claim when a customer suffers a reaction to a cream or soap. Once a product has left your hands, you have absolutely no control over it. Mark my words, a consumer can make more noise than a soap opera when it comes to looking to claim damages from you as the manufacturer.
To remain covered, you need to keep your Insurer in the loop
Don't forget, your insurance is based on the products you offered upon purchasing your policy. If you make any changes or additions to your product lines, you may no longer be covered.
So, communicate with your Insurer about changes or ideas you're considering. Things like hand sanitizer and some other products are not covered across the board. So never assume you're in the safe zone. Products of this nature are very hard to cover not to mention the requirements from the likes of TGA, and potentially opening yourself up to false and misleading claims about the product.

Read more about that here. More in regard to the Coronavirus here. 
Are you complying with your industry regulations?
AUZi Insurance have a dedicated specialist for Soap and Candle Makers

Your Dedicated Contact
Got a question? Give our broker, Nicole a call today on 1300 939 698 or email at nicole@auzi.com. You can also drop us a line below if you have a question or feedback. Nicole will get back to you ASAP.


Other blog posts you might like