Fathers Day - Handmade Gift Guide
When it comes to Father's Day presents, let's face it…Dads are simply hard to buy for! 
We get it.  Here at AUZi, we love all things handmade and are in a unique position to connect with so many talented creative people whom we are proud to call our customers.
So we thought we would come up with the ultimate "Fathers Day – Handmade Gift Guide" with some ideas outside of the usual "socks and jocks" box, whilst supporting small businesses in Australia. 
If the Father's Day gift happens to be for a tradie of sorts, a couple of our soap making clients have come up with special recipes to suit.  These bars not only do the job well, they look and smell amazing – a perfect addition to your handmade hamper.
The Little Oasis Bath Co make "Tradie Hands" soap – ingredients include pumice stone, orange essential oil, coconut oil, cocoa butter, and avocado oil to leave hands feeling fresh and clean and not stripped dry as commercial cleaners do.​​​​​​​​ 
Find them here: @thelittleoasisbathco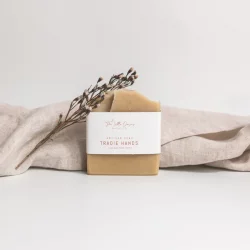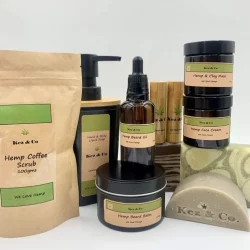 Kez & Co's "Tradie Bar" soap comes in a man hand kind of size.  This popular product sells out fast so get in early.  Kez uses hemp oil in most of her products and also has beard oil and beard balm in her range.  We think these could be a two-way gift if you'd like to kiss a soft and fragrant beard! 
Find them on Instagram @keznco
Pure Bliss Soap Co has curated the perfect Father's Day gift boxes. From Beard Oils to Shaving and Deluxe Body Soap, they've got every father covered. Did, we mention they are also Vegan & Palm Oil Free!!
Find them on Instagram here: @pureblisssoapco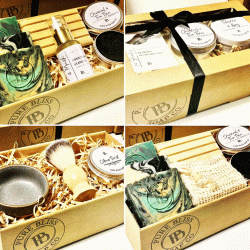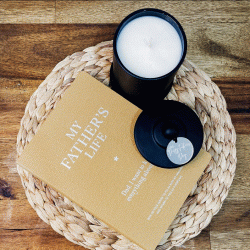 Here at AUZi, have a soft spot for TM Candles. They are a local small business to us and we love seeing Tara go from strength to strength. TM Candles are busy creating the perfect Father's Day Candle. This one is a win-win, can we ever have too many candles!?! 
Find them on Instagram here: @tmcandles
If you're looking for a gift that he can enjoy every day, a handmade ceramic or pottery mug is a perfect choice. It's personalised and unique and it will be something that he will treasure forever.
We know you can get those mugs with Dad memes from the cheap shop, but once you've invested in a special, handmade, unique pottery or ceramic mug for him – no one else will be allowed to drink from it, plus he will think of you everyday.
Corkhill Corner Ceramics offers a range of small-batch ceramics. Honestly, Jo has a style to suit everyone. 
Let me tell you, a Handmade Coffee Mug makes that Sunday morning coffee, reading the paper so much better. 
Find them on Instagram @corkhillcornerceramics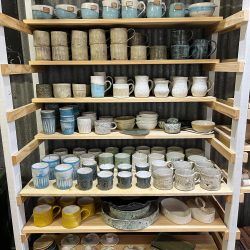 Personalised items are a great way to show your father you care, and there are many companies that do personalised items. These can be made from wood, metal, leather and more. If personalised number plates are a bit out of reach…. check out some of our favourite options below.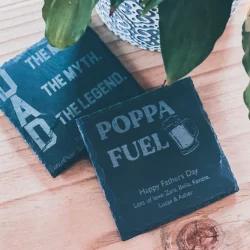 We all know Dads, loves to have a cold beer after a long hard day. So, Jess & Co have you covered with their personalised slate coasters.  You can have a personalised message embossed for your special man. These are perfect for the man cave or simply next to dad's favourite chair. No doubt, he will LOVE it. 
Find them on Instagram here – @jessandcocustomproducts
The team at TJ Blanks have a dedicated range of "gifts for Dad" from wooden bottle openers, cooler bags, DIY T-shirt transfers, drink bottles, back scratchers, stubby holders, aprons and more!  I know, my dad would love a personalised apron for all those Sunday BBQs. 
Find them on Facebook here – @TJBlanksAustralia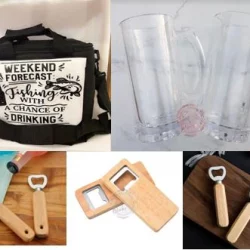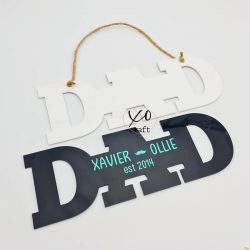 Kelsies Dreams have some creative signs, cheese boards, beard combs, and a nifty organiser to hold sunnies, phone, keys, watch etc. These Organisers are a win-win for all, no more lost keys or mess on the bedside table – Hallelujah.
Find them on Instagram @kelsiesdreams
Hopefully, we've inspired and helped you find something special.  Your local markets are another fantastic one-stop shop for all things handmade, additionally supporting your creative community!
Enjoyed the post? Give us a share
Need Public Liability or Professional Indemnity Insurance?
Here are some of our top policies