Brisbane is spoilt for choice on Sunday Markets
Last weekend handed over the perfect opportunity to spend our first Spring Sunday in the much-craved sunshine! So, off we went with the sun on our backs to experience Brisbane's best open-air market – Eat Street.
It's not often you can relish in a plethora of taste tantalising international food, live entertainment, casual drinks, score some new threads, and shop knickknacks galore – all in one place! All of this is cleverly spaced in old shipping containers, under sparkling fairy lights that set a picture-perfect venue under the moonlit sky.
Whether you like dessert for breakfast (or lunch, and dinner), or you love a little shopping with character, AUZi's Sunday at Eat Street figured that the one-of-a-kind foodie haven has something for everyone.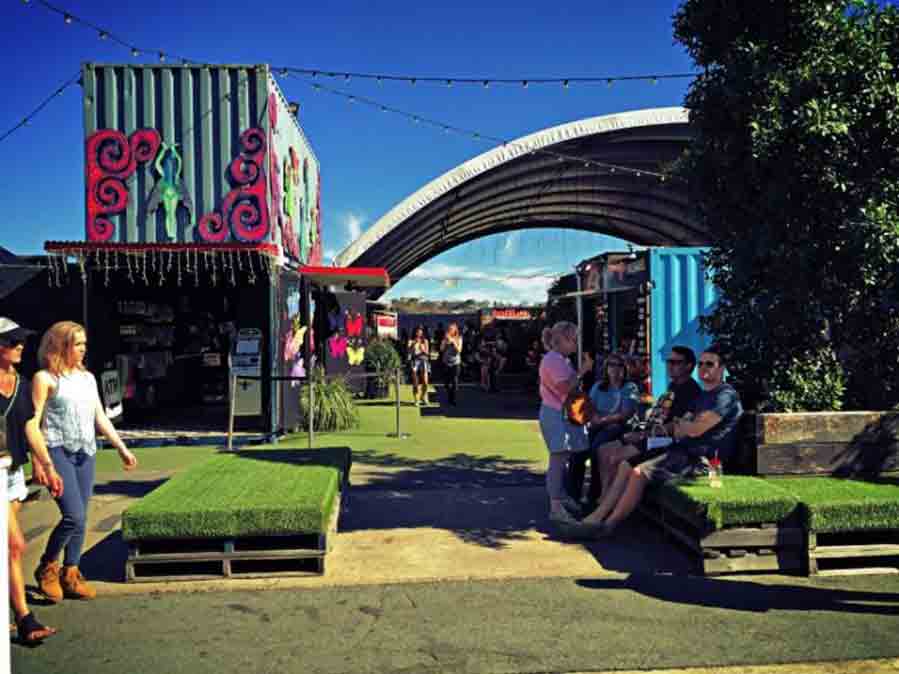 Now, there's only so much I could fit in my belly (I rolled out of the venue with the biggest food baby to date), but we attempted to try as much as we could. Though, we're obviously going to have to return for round two to sample the whole lot.
Here is what our day at Eat Street looked like:
With plenty of space for the whole family, the atmosphere was perfect for a family day out, or a catch up with the gang. Though with most of Brisbane mad about this place, we've heard the city's foodies flock to Eat Street making for a very busy venue on a Friday and Saturday night. So, get in early if you want the best seats in the house!
Whether you're on the hunt for the perfect gift (or you just want to spoil yourself), Eat Street makes the task an easy one with creative gems like 'Antique Vintage Jewellery' and 'M & M Art Deco' in the house.
'Antique Vintage Jewellery' takes the cake on eccentric beauty, with their collection of one of a kind pieces made from vintage spoons. We were in awe at not only their jewellery but their range of colourful handbags and wallets they recently added to their stall also. 
Our pit stop at 'M & M Art Deco' sent us home with these rustic vases. 'M & M Art Deco' have a permanent shipping container at Eat Street where you are bound to find – 'pieces that you will fall in love with for their uniqueness, practicality, colours and design.' 
Shopping at this market is the place to go for some quirky finds, and even some new threads. There are always new pop up stalls landing at the venue.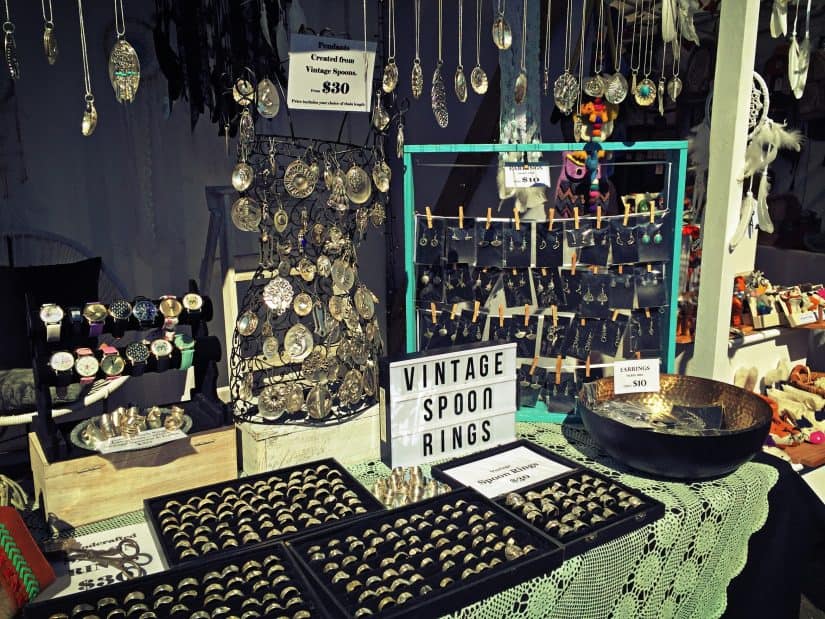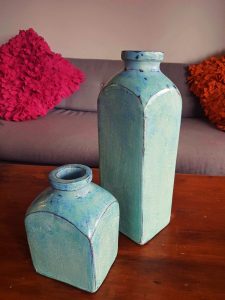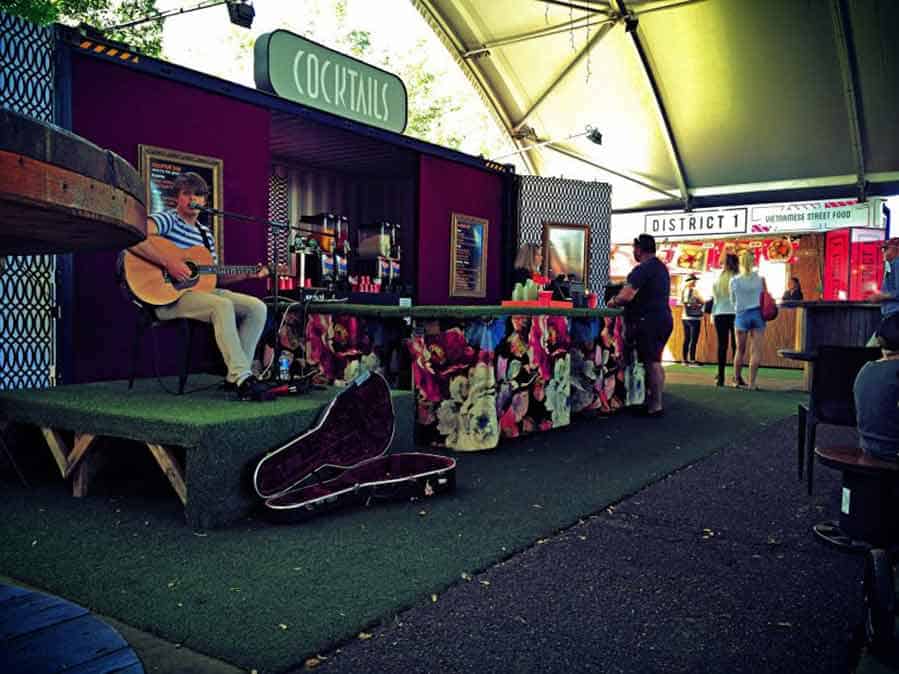 Eat Street join with the works of local and internationally acclaimed artists, setting the perfect vibe for your date, or for your little ones to get down and have a boogie to some all-time faves, or some new jams.
…Oh how we have fallen in love with thee.
What was on the menu for our lunch? We took our grumbling bellies to the Five Sisters for some Greek cuisine, and to Koma Sliders for a taste of Korea. And we must say, they definitely didn't disappoint.
We chose a mouthwatering traditional Greek Yiros with lamb, accompanied by a side of Halloumi and Tzatziki. The verdict: If you're wanting to try real Greek food without having to trip all the way to Greece, AUZi recommends you treat yourself to some of the Five Sisters menu, to satisfy those cravings!
We were given the heads up for a yummy twist of the classic slider (a mini burger), a fusion of East meets West, to head to Koma Sliders. This was the perfect mix of America and Korea. With a side of sweet potato fries, loaded with mozzarella and spicy mayo – these were definitely fries in their finest form! "It's Korean! It's American! It's Sliderlicious!"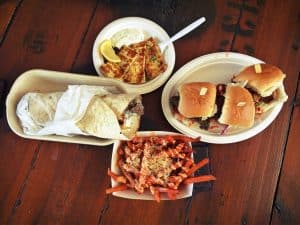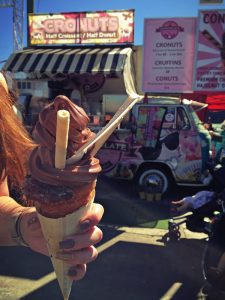 Now, there's definitely no lack of choice in dessert when it comes to Eat Street Markets.  From Pistachio Cannoli, to epic loaded shakes, cheesecake sundaes and bangin' cronut cones, this market will have you look no further in enticing that sweet tooth.
Some things just go together… Like Nutella and crepes, hazelnut soft serve with a dripping chocolate cronut cone, cookie dough and ice-cream… mmmm cookie dough. Let's just say we were spoiled for choice, especially when entering Kombi lane (doughie heaven).
We indulged in some handmade Italian goodness from Jake and Elle's kitchen, and all I can say is Holy Cannoli! Fresh Ricotta and Pistachios had me reminiscing of strolling down cobblestones lane ways in Rome.
Chocolate Komberry Co are a gift sent from the heavens, gracing Eat Street by the dessert angels I'm sure. They combine all of our favourite things: Doughnuts, Croissants, Ice-cream and Nutella. We devoured a cronut cone (Croissant meets doughnut), filled with chocolate hazelnut soft serve, dripping with Cadbury chocolate. Mmm, what more could I ask for?
Now, we thought Eat Street was already up there as the best hang out pocket in Brisbane.
Enjoy the read? Learn something new? - why not share.
Need Public Liability or Professional Indemnity Insurance?
Here are some of our top policies