How to Become a Jeweller in Australia
So, your passion for all things bling, all things that shine, and all things Jewellery have led you to our little page – but after Googling around and battling the inevitable sensory overload that comes with this kind of research, you might still be scratching your head thinking, 'how DO I become a Jewellery Maker in Australia?'. 
Starting any venture can be as equally challenging and stressful as it is fulfilling and gratifying. Sure, the whole world is your oyster, and starting a small business is easier now than ever before. But taking those first steps to launch your brand can still be one of the most anxiety-inducing moments. 
"Will I succeed?" "Will I fail?" "Am I ready?" These are usually the types of questions that run through our heads, and it's what often stops people from pursuing their passions. Which is exactly what we don't want.
As with creating any business, there's a lot of work to be done. But what this post aims to do is point you in the right direction so that you can have peace of mind, stress less about the finer details, and focus on what matters. Your beautiful Hand-Crafted Jewellery. Let's get started.
When researching how to become a Jewellery Designer, you can end up getting led down quite the rabbit hole. Between your high-end Fine Jewellery, Art Jewellery, Collectable Jewellery, Costume Jewellery and our current favourite Polymer Clay Jewellery – there's just so much to explore.  However, I am sure you're all over this and already have your style mastered. 
Establish your Jewellery Niche
As we know, most industries including Jewellery Making took a hit throughout 2020. But a few years later, after consumer priorities and expectations have shifted, we can see Jewellery Makers coming back in force. The Jewellery Designer Industry was worth USD 228 Billion in 2020, and it is expected to grow to USD 307 Billion by 2026, With Asia-Pacific becoming one of the biggest emerging markets.
One of the positives to come from our periods of lockdowns is the ever-growing number of everyday people turning their Hobby into a Business and saying goodbye to their mundane 9 – 5's. This means you're not the only one, putting it all on the line for a dream. So, it is important to find your niche and bringing your own flavour to the industry will certainly help you bring in some bucks. Let's have a look at a few.
(From some of our Incredible Jewellery Manufacturers)
Kirsty, the Soul behind Ocean Made Glass Collects, Creates and Sells bespoke Jewellery Crafted out of beautiful Sea Glass Pieces, which are often thought of as 'beach rubbish'. Kirsty collects the Sea Glass from various locations in Australia, Including the beautiful Mornington Peninsula, and Tasmania.
"I love creating connections between people and my pieces and that people can feel more responsible about their purchase."
Anna, from Hello Gorgeous Designs creates a wide variety of Colourful, Handmade Resin Jewellery pieces (95+ different styles on her store as of writing). We asked her where she draws her inspiration;
"I look for inspiration everywhere. I have a notebook that I jot down a lot of colour schemes that I see & would like to recreate, I also sketch some earrings designs & the occasional keyword to build a future collection around. I never know when & where the inspiration will strike."
Having the right idea and being able to jump at Inspiration are two qualities that make up fantastic Jewellers. Do some research into Jewellery Making Trends, find some community groups on Social media, Create a Mood Board, there are simply so many ways to find inspiration. There will always be new trends to follow as time progresses – take advantage of your strengths and find your own little way to strike gold! (Pun certainly intended). 
I've got an amazing idea for a Jewellery Brand. What comes next?
So, you've got an idea for a gorgeous line of Jewellery; you're sure it's a recipe for success, but you're not quite sure where to go next? It's time for those dreaded words that every hobbyist looking to kickstart a small business hates – It's time to create a Business/Marketing Plan.
Now, before you get the jitters – Creating a Small Business is something we've talked about before. Nailing your Business/Marketing plan does play a huge role in setting your business up for success, but that shouldn't discourage you. This is where you get to iron out the 'brains' of the business – where you'll define your goals, map them out, and devise strategies to achieve them over time. This doesn't have to be a whopping 5000 word document to end all documents – it can simply be a guiding force to give your business direction as time persists.
These are some of the things to consider;
Once you have a concrete Business and Marketing plan, you're almost ready to go. But there are still a few more things to do to make sure starting your Jewellery Making Business goes as smoothly as possible – read more on that here. 
Should I Sell my Jewellery Online?
We're no stranger to online selling – It's why we've worked extensively to create online solutions for what is generally considered an offline industry. As Online Spending continues to grow we shouldn't have to tell you that remaining offline will do nothing but hinder your business' progress – and most people are clued in to this by now. However, as a Small Business Owner, what isn't obvious is WHERE you can actually sell your products online. Let's look into that.
Best Sites to Sell Jewellery Online
With there being 5+ billion google searches per day in 2022, it's safe to say that there is a LOT going on online. With that, it might be easy to get lost in deciding where to present your product online, but it shouldn't be. Shopify has put together an extensive piece on the best places to sell online, you should give it a read if you struggle in this arena. However, while Online selling is absolutely imperative for a business's success – we still shouldn't neglect physical sales. 
Don't forget to get Social
The creative industry is booming on TikTok, Pinterest and Instagram. It is extremely important to ensure you have a presence on these platforms. (insiders tip – make sure you can secure the handle (@name) on these platforms.  You don't want be losing your customers because they followed the wrong account or couldn't find you because you had to add a bunch of numbers at the end of your name – @auzi1234.)  People love watching the BTS, packaging and getting to know the creator (You) so don't be shy, share the highs and the lows and you'll soon have a cult following, cheering you on from afar.  
Selling Jewellery at a Market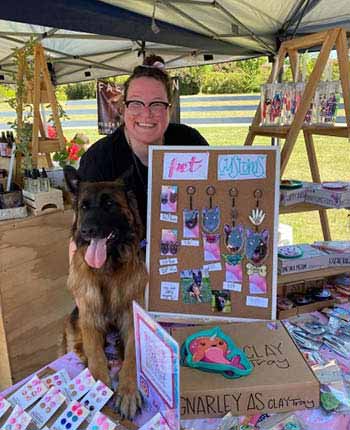 Sarah, founder of Dearest Sally Snowdrop, runs a Handmade/Craft Jewellery Market Stall – and says that Online Selling isn't the be-all and end-all. Sarah has stated that Running a Market Stall helped her build confidence as a Small Business Owner, while also allowing her to work through Social Anxiety. 
"My business ethos is, 'Bringing sunshine and warm fuzzies to you EVERYDAY' because we meet at the market, you stay for the chats and fun times, you buy a ridiculous pair of handcrafted earrings like "glitter prawns" and you go home and about your usual life.

Then when you put that pair of Glitter Prawns on, you remember the sunshine and the awesome energy and fun times you shared with that person dancing around like an idiot"
Diversifying your offering doesn't just mean creating more products, it means giving your products (and your bubbly personality) as many opportunities as possible to be seen. 
Running a Market Stall is such a great way to give your products a wider reach, gain experience selling in a physical location, and network with the community.  
Becoming a Jeweller in Australia is No Joke. But is it really ever easy to turn your passion into a reality? We hope this piece has convinced you that the time is NOW for creating your beautiful, bespoke Jewellery Collection… Or, at the very least – has pointed you in the right direction to help you kick-start your Jewellery Making dreams.

Enjoy the Read? Learn Something New?
Why not share it to your Network?