How to Start a Market: A Comprehensive Guide
Markets have become an integral part of Australian culture, offering a vibrant and diverse platform for entrepreneurs, artisans, and local producers to showcase their goods and services. If you have a passion for entrepreneurship and community engagement, or you are a veteran Stall Holder and want to leap into the wonderful world of market organising, starting your market can be an exciting and rewarding endeavour. This comprehensive guide will walk you through the essential steps and considerations involved in how to start a market in Australia.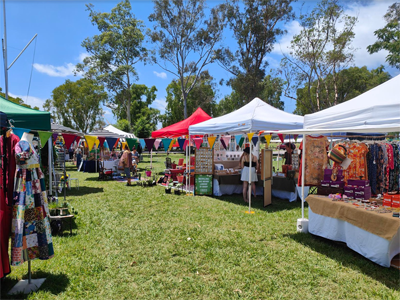 1. Define Your Market Concept:
The first step in starting a market is to define your concept. Determine the type of market you want to establish—whether it's a farmers' market, artisanal market, flea market, or specialty market. Consider the target audience, the products or services you want to feature, and the unique selling points that will differentiate your market from existing ones.
2. Market Research and Planning:
Thorough market research is vital to understand the demand and potential of your chosen market niche. Identify potential locations, target demographics, and competition. Evaluate the demand for your proposed market by conducting surveys, interviews, and collecting feedback from potential stallholders and visitors.
Create a detailed business plan outlining your goals, market analysis, marketing strategies, budget, and financial projections. This plan will serve as a blueprint for your market's success and help you secure financing if needed.
Now, we know the above sounds daunting, but honestly, it isn't. The government offer some free Business Plan templates, and the market research can be as simple as attending your local markets and having a chat with the stall holders, volunteers and fellow market-goers. Take notice of the things you LOVE and/or dislike in these markets. For instance, you may LOVE that there are multi-buskers throughout the markets, so there is a constant flow of music and entertainment, or on the other hand, you may hate that you have to wait until you are more than halfway through the market before you can grab your morning coffee….these are all little things that impact the enjoyment of a market.
3. Legal and Regulatory Considerations:
Before launching a market, you must comply with various legal and regulatory requirements. Here are a few key considerations:
a) Business Registration: Register your market as a business entity with the Australian Securities and Investments Commission (ASIC). Choose a business structure (sole proprietorship, partnership, company) that suits your needs and consult with a business advisor or lawyer if necessary.
b) Permits and Licenses: Contact your local council or relevant government authorities to obtain the necessary permits and licenses to operate a market. These may include permits for temporary structures, food handling, liquor sales (if applicable), and public liability insurance.
c) Market Organiser Insurance: Obtain market organiser insurance to protect yourself, the stallholders, and visitors against potential liabilities and accidents that may occur during market operations.
4. Secure a Suitable Location:
Choosing the right location is crucial for the success of your market. Consider the following factors:
a) Accessibility: Select a location with good accessibility and public transport links to attract a larger audience. Ensure there is ample parking space for visitors and stallholders.
b) Venue Requirements: Assess the infrastructure and facilities available at the venue, such as electricity, water supply, toilets, and sheltered areas. Consider the layout and space required for stalls, seating areas, and visitor circulation.
c) Cost and Availability: Evaluate the cost of renting the venue and negotiate favourable terms. Consider the availability of the venue on desired market days and whether it aligns with your market's frequency (weekly, monthly, or seasonal).
5. Sourcing Stallholders:
Attracting high-quality stallholders is crucial to the success and diversity of your market. Consider the following strategies:
a) Outreach and Networking: Utilise social media platforms, community groups, local directories, and word-of-mouth to spread the word about your market and attract potential stallholders. There are a number of dedicated Facebook Groups, such as Market Stall Holders Australia, where you can seek stall holders and interest in the market.
b) Application Process: Develop an application process that allows interested stallholders to apply and showcase their products or services. Consider implementing a vetting system to maintain the market's quality standards and ensure a diverse range of offerings. Depending on the size of the market, we may want to implement a plan to only allow 1 or 2 stall holders that sell the same product or ensure all products are either locally grown or handmade etc., depending on your market niche. 
It is vital to ensure you have a fair and reasonable stallholder fee. When Stallholders are considering attending/applying for a market, they will take into consideration the foot traffic, the marketing, the type of clientele you will be attracting and the COST – the cost does need to cover your expenses. However, it also needs to be affordable for Stall Holders.
c) Stallholder Support: Provide ongoing support to your stallholders by offering guidance, marketing assistance, and networking opportunities. Encourage feedback and maintain strong communication channels to foster a sense of community and collaboration.
6. Marketing and Promotion:
Successful marketing is essential to attract a steady flow of visitors to your market. Consider the following marketing strategies:
a) Online Presence: Establish a dedicated website or landing page for your market. Utilise social media platforms to engage with your audience, share updates, and promote featured stallholders. Leverage email marketing to communicate with your subscriber base.
b) Collaborations: Collaborate with local media outlets, community organisations, and influencers to generate buzz around your market. Consider organising launch events or partnering with local businesses to cross-promote your market.
c) Signage and Advertising: Utilize signage strategically in the local area to raise awareness about your market. Advertise in local newspapers, magazines, and online classifieds. Consider distributing flyers in key locations or sponsoring community events.
d) Market Ambience: Enhance the overall market experience by organising live entertainment, workshops, and demonstrations. This will create a lively and inviting atmosphere, encouraging visitors to spend more time at the market.
Starting a market in Australia can be a fulfilling venture that promotes local entrepreneurship, community engagement, and economic growth.
By carefully planning and executing each step, from research to marketing and promotion, you can establish a thriving market that attracts both stallholders and visitors. Remember, flexibility, adaptability, and constant communication with your Stallholders and community will be the keys to success in this exciting endeavour.
Looking for insurance for your market? Click here for more information.

Your Dedicated Contact
Got a question? Give our broker, Nicole a call today on 1300 939 698 or email at nicole@auzi.com. You can also drop us a line below if you have a question or feedback. Nicole will get back to you ASAP.
If you found this blog educational, please share it;
Need Public Liability or Professional Indemnity Insurance?
Here are some of our top policies