Handmade Canberra - The #1 Handmade Market
I am sure we have all heard of Handmade Canberra and if you haven't you are seriously missing out!  Handmade Canberra is the #1 Handmade Market in the ACT.
Handmade Canberra was established back in 2008 and they have conquered it all. From bushfires to COVID these ladies didn't let anything stop them. They pivoted the business to an online platform, allowing their community a place to call home and continue making an income during the most challenging times of their lives.
Handmade Canberra features an array of artisan creators, there is honestly something for EVERYONE! Even if you are just wanting to browse and soak in the abundance of talent or simply hunting out a tasty treat, you would be mad to miss their gourmet food hall full of street food vendors – YUM!
Their next in-person market is fast approaching, on the 29th – 30th of October so make sure you add this to your calendar. Trust me you do not want to miss this one, folks.
We also just learnt that Handmade Canberra offers a Low Sensory Shopping Hour between 9 am – 10 am on the Sunday of the market. Where the lighting, sounds and smells will be dimmed to ensure everyone's needs are met – how wonderful. 
There is a long list of amazing stallholders to see, and the following is just scratching the surface, so make sure you go along to experience the talent first-hand.
Little Keeper is a handmade jewellery label, established in 2013. Products are individually handmade using gorgeous timber, acrylic pieces and glossy resin and feature pops of colour, metallic highlights and glitter panels. Honestly, these pieces are incredible, you really need to check them out!
Bandicute is a creative mother-daughter team from Gunning, NSW. Their original and whimsical designs are a culmination of their stories and love for Australian wildlife. They are brought to life through digital fabric printing, block printing, sewing, painting and laser cutting. This one is seriously a one stop shop.
Natural, Ethical, Beautiful – Cinnamon & Clove's handcrafted artisan soaps and skincare products showcase the finest quality fair-trade and organic ingredients, bringing a touch of exotic Zanzibari luxury to your bathroom. Only natural colours and premium essential oils are used to enhance each product, and transport you to faraway lands.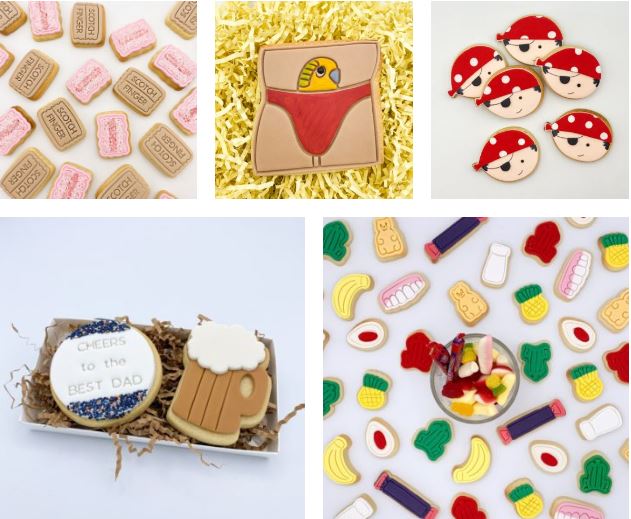 Dough Re Mi creates handmade kick-ass cookies… nope, not biscuits, but COOKIES! When you have something to say, it's always easier (and far more delicious) to say it, with cookies. Dough Re Mi has plenty of options to suit your needs, from individual cookies just for you, to multi-packs for the family (if you can stand to share), or bigger share packs to get everyone through those long meetings at work (OK, let's face it, they're all for you as well).
Of course, if you are from afar (like us, unfortunately) you can always check out their online directory, to support Australian Made and grab yourself a treasured handmade goodie.
Need Public Liability or Professional Indemnity Insurance?
Here are some of our top policies